We built a flower box using just two $5 cedar fence pickets. You can do this with basic tools – a saw & a nail gun (or just a hammer and nails). This would be a great first build! I used a tutorial from Angela Rose Home.
Step 1
Cut two of the fence pickets to exactly the same length – the length will be whatever size you want your planter box to be. I did mine a bit longer than the length of my window.
Step 2
I moved the angle of my table saw to 22.5 degrees to cut two triangles out. These will be the sides of the flower box.
Step 3
I could see the blade marks on the pickets so I used my sander to smooth them out.
Step 4
Assembly! I used wood glue to attach the triangles to the first picket and then we laid the second picket down on top. Then I took my nail gun to secure where the pieces are connected. I used about 6 nails on each side (24 nails total).
Step 5
I used this micro sander to smooth out the holes from the nail gun and then dabbed some wood filler into each hole.
Step 6
This is always my favorite part. I stained the wood using Behr's Waterproofing Wood Finish. It's a stain and a sealer all in one! I used the color "clear."
Time for Flowers!
I filled the bottom with brown paper bags (I've used this method on all my other flower boxes and it's worked well to keep the soil from falling out the small seam on the bottom).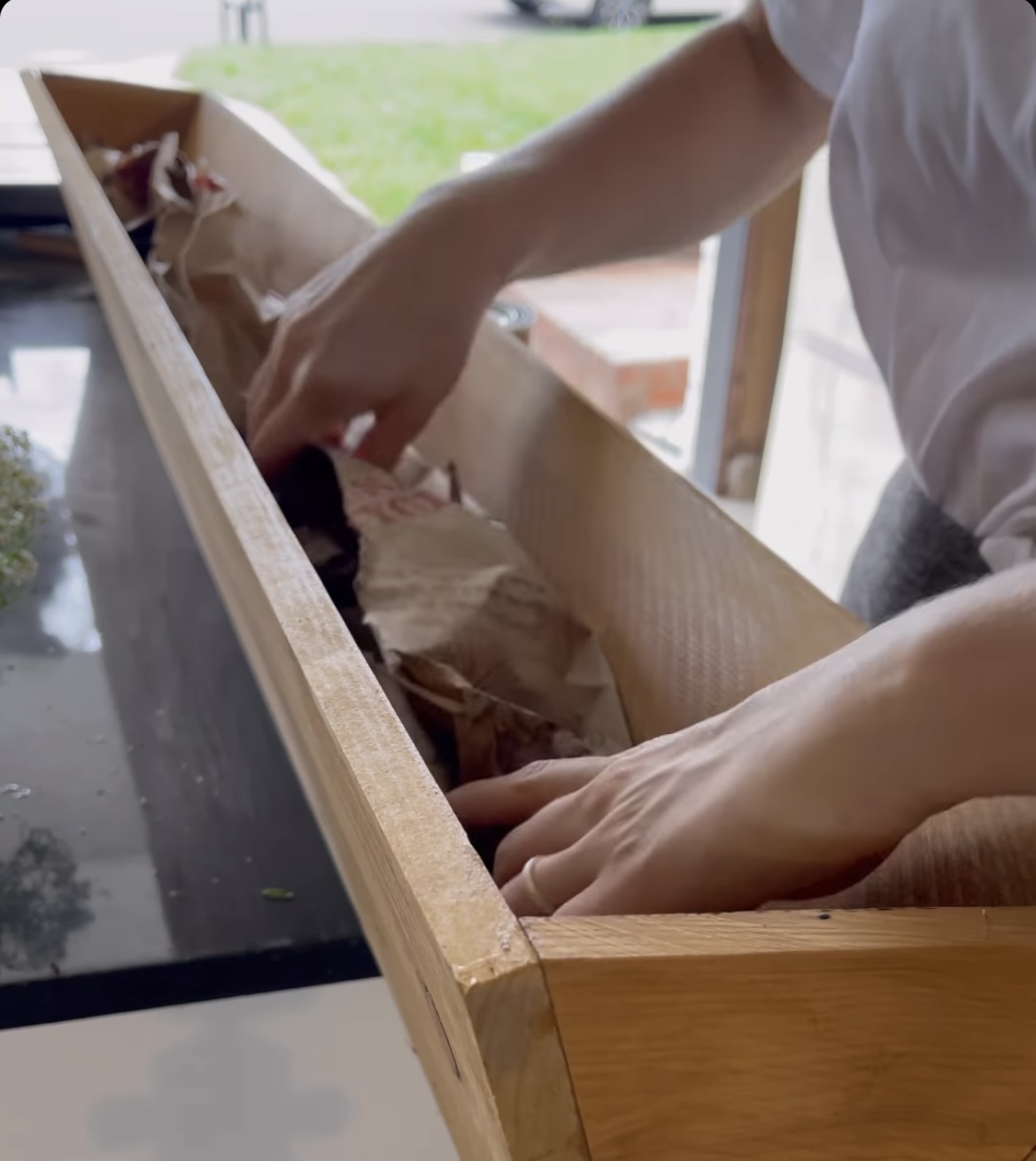 I looked up flower boxes to see how much they sell for, and wow! I didn't realize how much money I was saving by building my own. And it's a custom size for my exact window.
While I built the flower box, Jake spray painted the trim around the window black. It looks so sleek.
Installation
Drill three holes through wood and through stucco. Take the planter down and make holes in the stucco slightly bigger so the anchors will fit. We used a hammer to tap the anchors into the stucco and then the screw will go through the wood and into the anchor. Then hammer the anchors in!
Finally, bring your box up to your window and put screws through wood into anchors in the stucco. That's it!
Look how pretty! Instant upgrade.
If you'd rather buy than DIY…
We found some great flower box options on Amazon. Here are our recommendations!